OPENING OCTOBER 30 – DECEMBER 18 2010
LA GALLERY ERIC MIRCHER. PARIS
26 rue Saint Claude 75003 Paris.
Métro : Saint Sebastien Froissart.
2h -18h sf dim. et lundi. / 01 48 87 02 13.
TEL / FAX : + 33 1 48 87 02 13 .
www.mircher.com
EXPOSITION OUVER TE TLJ DE 12 H À 18H & SUR RDV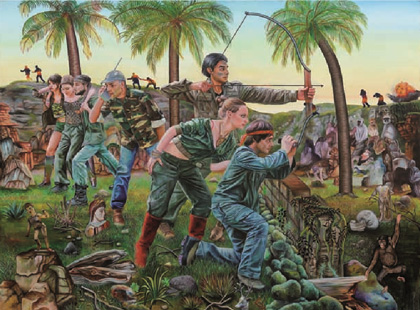 Title . REMINISCI. 2009. Huile sur toile 185x250 cm
The invasion of figures, of symbols and senses, and of references in Nazanin Pouyadeh's paintings seize at first look. We immerge ourselves in a universe both familiar and strange. Each painting is a world in itself, but it expresses a world in chaos. The figures are placed in suspense in imaginary landscapes reminiscent of classic Flemish or Italian paintings that she studies and explores with precision.
The artist, the painter is always the director. One by the one she places the visible elements in search of correct coincidence between her mental images from memory and amnesia and those of the exterior world. Their fusion creates new understandings, connections and collections of what is real and delivers a paradoxical world in which one cannot doubt.
To see a painting of Nazanin Pouyandeh is a cross between appearances, collages, patchworks of references, where Iran discovers itself under Venus, hard rock, gothic under the light of Joachim Patinir, classicism and the cool generation, role-playing games and war. Today, history is history of mixing. The acceleration of the contemporary world with the incessant influx of images has exhausted all stability in their apprehension.
Exil of Pouyandeh. The tensions of image between Iran and Europe enlighten her work. Nomads or exiles have Histories and Geographies. Her paintings transmit her crossing of countries and images, Babel of sense, of forms and colors. Not in search of origins, she delivers an non identity, non nostalgic identity, reality reveals itself surreal. Using the words of the writer Edouard Glissant, she creolises, she makes a world of all perceived words, those of her origins, of her country of exile, but also of those discoveries in books—the world past,present and future in which all logic is absent.
The narration, the history or fable describes itself without any clear connecting narrative other than the experience of painting for Pouyandeh. The history of the piece builds itself in the here and now of the painting in progress in search of connecting all the elements of the piece.
Briefly About Nazanina Pouyandeh
Born in 1981 in Tehran, Iran. Graduated form Beaux-Arts of Paris in 2005.
Nazanin Pouyandeh lives and works in Paris.
2010/2011- Solo exhibitions: Aaran Gallery. Iran/ Eric Mircher Gallery. Paris (catalogue. texts P. Piguet/Eric Corne)
2009- Solo exhibition: Eric Mircher Gallery. Paris (catalogue. Text P. Dagan) Chelsea Art Museum: "Iran Inside and Out." New York.
2008- "Figuration de l'imaginaire" CAC. Mont de Marsan (catalogue) and Prize Erro Antoine Marin
2007- Aeroplastics Gallery. Brussels. "La Nouvelle histoire" by Pat Andrea. The Hague.